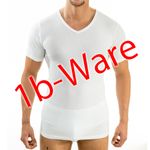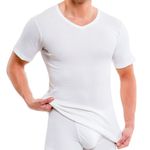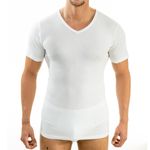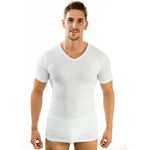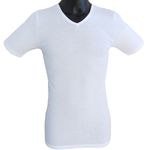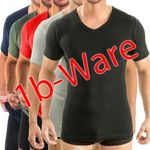 HERMKO 444880 5-pack of men's short-sleeve business shirt with V-neckline in 100% bio-cotton, with minor flaws
---
Item number: 444880
Availability: 1 - 5 working days
---
EUR 18.09
Unit price
EUR 3.62 / piece
Incl. VAT excl. Shipping
Men's short-sleeve business shirt with V-neckline
1b the second sort
The business shirt come in a pack of 5. Either 5 white business shirt (colour: white) or 5 different plain-coloured business shirt (colour: coloured).
It is also possible that the pack might contain just one colour.
The business shirt have different flaws - mainly foreign fibres, sewing and weaving faults, soiling and short seams.
100% fine-rip organic cotton
Underwear direct from the manufacturer on the foothills of the Swabian Alb
Quality for over 60 years
* * * HERMKO - underwear to fall in love with * * *
General Notes
| | |
| --- | --- |
| Material: | Cotton |
| Gender: | Men |
| Economy pack: | 1b-Ware |
| Material properties: | boil-proof |
| : | |
Product Information
The fabric on this product is made entirely from organically grown cotton, so that's pure natural fibres.  

Cotton is highly robust, tear-proof, durable and has a good absorption capacity.
 
Your washing will have excellent skin compatibility because:
• No pesticides, insecticides or fungicides
• No artificial fertilisers
• No defoliants
have been used in the organic cultivation of this cotton.
When our organic cotton is grown, we always strive to minimise impacts on water, plants, animals and soil. The cotton that we use is not grown in monoculture.  Instead, we rely on organic methods in crop rotation.
Our fabrics are knitted, dyed and bleached in Germany. This means we can achieve good skin compatibility and superb quality standards.
Our fabrics are knitted, dyed and bleached in Germany. More information about our production you will find on the other pages.
All articles produced by us, including this one, are certified according to the strict guidelines of STANDARD 100 by OEKO-TEX® (06.0.41689 Hohensein HTTI). For this purpose, our goods are regularly tested for harmful substances by the Hohenstein Institute and thus the skin compatibility is confirmed.
There is no size chart available for this item.
Matching articles to
HERMKO 444880 5-pack of men's short-sleeve business shirt with V-neckline in 100% bio-cotton, with minor flaws